I should start by saying that the home was delivered in November and it is STILL not complete. The final inspection should be happening any day now and then the home can have the stone paneling put on the outside and the final cleaning done inside. 4 months is much too long to wait for a paying customer. If this wasn't a model home for the community I would hate to see a customer treated that way. It's okay with us because our Japanese household goods aren't here yet so it's not like we're ready to move into it. I'm just irked with our crew for dragging their feet. 
On another, happier note, the Tangelwood is GORGEOUS! I'd never guess right off that  it was manufactured if I hadn't seen the assembly in progress. It is just too big and nice. I can't get over how fancy it is on the inside for a manufactured. Granted it is one of the more top of the line ones but we wanted to be able to showcase something top of the line. Whoever gets this home after us will be beyond pleased with it. 
I can't wait to finally be able to update with photos. The weather has just been gross and the front port was in progress for almost 3 weeks. Now it's finished and as soon as the stone paneling is up, I'll go take photos. The interior is still all drywall dusty and needs to be cleaned up. The fireplace was put in without a mantle & hearth, so it is going to be fun picking those out. 
I'm excited about it! I have been dreaming about gardens for the last week and imagining the landscaping. I guess I didn't realize how much I missed that stuff. Always moving means I can never get attached to things like that. Now, though, I'm having so much fun thinking of all the ways to add the final outdoor touches. Landscaping can make or break a property in my mind. If it's blended well into it's space with living green things, it looks like it belongs there rather than just being dropped down from the sky. At least, that's how I see it. 
Next! 
I finally got a chance to look at the surveys for the Wixom property. (I really need to pick out a name for our future place, don't I?) The shape of the land is to die for!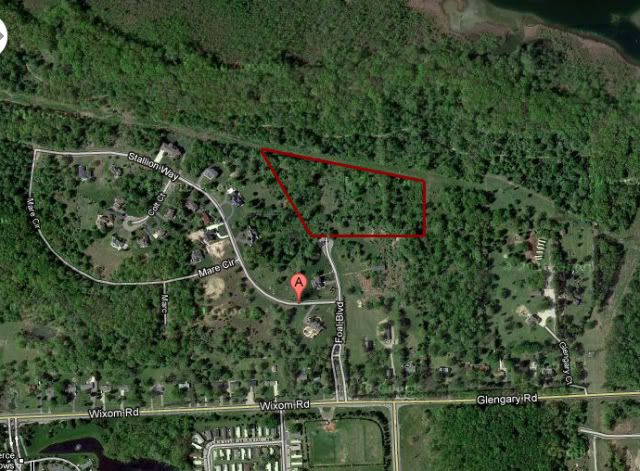 The whole red block is ours. I also found out that some of the surrounding pieces to the East and South East might be available for purchase in the future. Maybe if my barn is successful I'll need to build a second and have more paddocks. Ha! I guess I'm in the dreaming big mood. Anyway, that's it right there. We're at the end of a rather nice cul-de-sac and the property on either side of it is ours, which means we'll be able to use that area as an entrance to the place. I think it will look amazing. Next time we're out, I'll take photos. 
We visited the property when we first got back and we walked almost the whole property line, or what we were assuming was the property line. It is WILD and undeveloped. Lots of game trails and I even got to see a flock of wild turkeys, some raccoon and deer tracks and in general just explore. Trying not to get eaten by thorns was .. entertaining. I have some questions about what it takes to clear land like that. It's old trees, brush and well, imagine a hunk of land that's never been anything in the history of ever. Eesh. 
We've got our eyes peeled for architects and builders that will be able to help us realize our dream house. One is in Ann Arbor - http:/www.meadowlarkbuilders.com/ and the other is in Bloomfield Hills - http:/www.yyarchitects.com/. So far, I'm not set on anything but it's nice to see that someone out there wants to build in a similar style. I also have no idea how long this could all take from start to finish. I'm hoping we can get the ball rolling at least this summer, pause for the winter and then finish in 2013. Lofty goals I tell you!