For my first post having to do with the interior of the barn, I wanted to talk about the private tack lockers. I think one of the worst things about boarding was never knowing who was touching my stuff or going through my belongings. Most people who have ever boarded have, at the very least, had things get borrowed without permission or get lost. 
I found these photos in my search and with a few modifications, they could be really awesome. I think a row of 4 side by side each with a corresponding stall number would look quite smart. Maybe a slot for a name plate? 
For 10$ I think details like that really make a boarder feel special. 
http://www.starfishfarms.com/horse/tackroom_barn/index.html#tackroom
Here are the lockers - 
The dimensions listed are 84" x 42" x 30"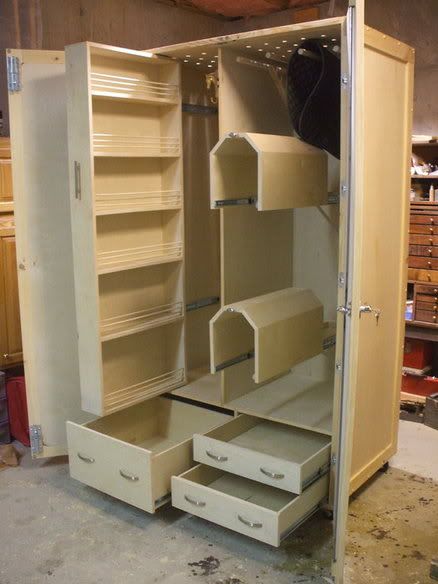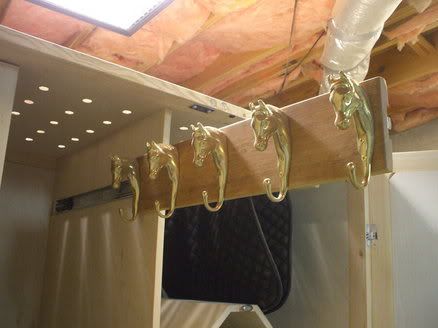 Of course I don't necessarily like ALL the components. I'd rather have bridle hooks like these for instance: 
The brass horse heads are A. cheesey B. expensive and C. bend the hell out of the crown of your bridle. I'll go with a matching wood half round, thanks. 
I'd also add a mirror to the inside of one of the doors. 
And take out both of the small drawers just leaving a cubby for a grooming tote to slide in and out of. Most people have a box/bag/tote that they bring with the essentials to the cross ties. The above plans make it seem like your brushes would be neatly laid in the drawers? Pretty, sure ... impractical? Definitely. 
The left side slider would be neat to have for bottles, wraps, boots & bandages etc. But it seems like it needs tweaking to be truly useful. I kind of like the inner saddle storage cubbies, but I don't know what I'd put in there. 
I think that most people would say 'wow that's huge!' but I don't plan to ever move these things and I like the idea of giving boarders something special to use. I think at a small facility, details like that matter. The future ads will look nice when I can say 'private tack lockers'. 
For example, here are a couple photos of some of the other lockers I've seen: 
This one is okay, I don't like the huge swing out doors though, and the fact that all the storage on the doors is pulling on the hinges. With the above locker the doors are 'stuff' free and don't need to open all the way to gain access. Imagine you are next to someone's locker and their doors are open and flapping on yours? 
I DO like the cubbies and shelves in this one. The plastic tubs don't look too bad either. 
The trunk styles and small cubes don't appeal to me at all. I wouldn't want to use them and I don't think most people enjoy them either. They are meant to be portable and I just think you're sacrificing space for that. I hate the idea of digging through all my stuff, stooping down or ending up with everything crammed together. 
I will say that uniformity is a peeve of mine so all the hardware and wood and fixtures will match. Heh. I even plan to offer matching locks to everyone. I'm so weird.