I thought it would be nice, for posterity, to make an entry about some of the things I'm really looking forward to. Most of them are domestic and without living in Japan I would have never been as grateful for things as I am now. So, there's that pretty cool life lesson. Living without something makes you nearly painfully aware of how important it was to you. My sense of gratitude has been honed by this experience for sure.
No particular order-
I cannot wait to have an American sized refrigerator.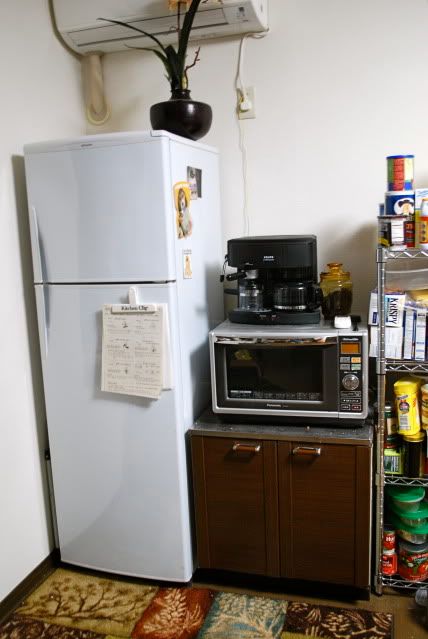 I don't know if you can tell by the photo above or not, but that fridge is about half the size of an American style one and the freezer is about the size of my microwave. I have learned to shop often (fun! NOT.) and to buy products that will fit. There are things that I simply cannot buy ever, or have to plan carefully for.
Like a whole chicken. If I buy one I have to be certain that there is room in my fridge (rare) or use it that day. There is no way I am taking up a third of my precious freezer space to store it. Certain items come in packaging that will just never fit (like a gallon of milk) and I can't buy a frozen pizza unless I want it that night. 
Because of that fridge/freezer I've learned to make a lot of foods myself. I've pretty much perfected my pizza dough now. I have also perfected the art of what we lovingly call 'Jenga house' or 'fridge tetris'. I have never crammed and shoved and piled things together so much in my life. It drives me batty. I love to have things stored in an organized way and sometimes the only way to make things fit is to turn a jar of pickles on its side and pray it doesn't leak. 
The freezer situation also makes it so that I cannot store many home made things. I end up sharing half of my recipe most of the time. I absolutely long for the day that I can store vegetable scraps or chicken bones so that I can make my own stock and then freeze that! I would love to be able to buy sale items and keep those in the freezer. I daydream about making big batches of soups etc. and having them for later. Simple things like that. 
I have also learned about what I really need and use. It's nice to know that the contents are rotated frequently and there aren't any mysterious frostbitten things languishing in the back. I am more aware of food waste and I'm grateful for that too. I don't go crazy buying things because they're on sale and I rely a lot more on fresh things since I just can't sacrifice freezer space for frozen vegetables or whatever. 
Next, I daydream about an American dishwasher!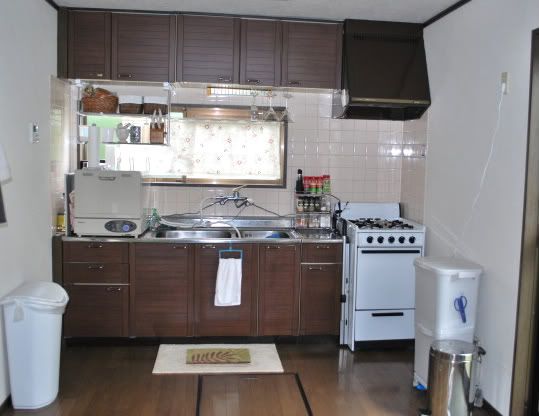 Do you see mine? It's right there. No, that's not another microwave. It's my dishwasher, really! Yes, I am happy to have that thing but only happy like a person eating a pudding cup with a fork. 
It helps but it's still a pain in the butt to do 3 loads of dishes a day and only 75% of my dishes fit in there. I cook a lot at home and there are always, ALWAYS dishes sitting in my sink waiting to be washed. I hate that! 
Oh ho... just wash your dishes by hand you say? Notice there is no spot for a drying rack. Also, I hate hand washing unless I have to. I grew up without a dishwasher and my goodness did I feel like I died and went to heaven when I moved into my first apartment with one. That was only 6 years ago! 
I am really, really looking forward to being able to wash my cutting boards, large pots and bakeware in a dishwasher again. I've come to appreciate my new talent though. The talent of fitting as much as I can in that little box. I am the master at 'dish tetris'. I can fit an amazing amount of stuff in there. It's to the point where I'm not sure what I'm going to do with all the space in a big one? I'll have to learn how to 'un-cram-ify' my technique. Ha! 
Next is that pathetic range. I hate it so much that I imagine running it over with a steam roller pretty much every day. Thanks to it, it takes me 8 batches to bake one recipe of cookies. It only fits a small cookie sheet and it sucks to wait for six cookies at a time. Also, it heats so unevenly that I can pretty much guarantee burning in some area of whatever I'm baking. I also cannot cook anything very large, so I haven't made a turkey in years.  It is 20X20 centimeters. Forget putting a large pot on the top and using any of the other burners! Pasta AND sauce, simultaneously? Certainly, you jest.
That is if the thing wants to turn on at all. I have to light the burners manually with a lighter probably a quarter of the time and the oven will often just run gas and not light. Then when it does finally light itself sometimes you get the 'KAPOWBOOM' when it kind of explodes. Or it will say it is on and be doing absolutely nothing. Because of this monster I haven't baked a pie in three years. I hope when they take it out of here it goes to some sort of torture camp for evil appliances.
I think when I get back to the states and settled into our temp home. I am going to be on a baking/cooking/rolling around on the floor of the kitchen in ecstasy spree the likes of which Michigan has never seen. So, if you live within traveling distance I'll probably have a pie for you to pick up. 
Also, here is a picture of Aaron with a tiny lawn mower. You're welcome!