Well, looks like I'll be needing to get some new stuff. It's really fun for me to finally think about some of the things I'll need for when I get back to the horses. I've had it put in a mental box in the dusty back corners for so long. I need winter gear and some training items that I didn't have before. I'm sure I'll come back and add things to this post.
*I will be editing the items to purple as I acquire things and adding what I paid with a description.
First the tack stuff:
I need a rope halter and training lead for Emmie. I don't know what size she needs for most things, so I'll assume she's cob sized like her mom for now. Uniquely Equine makes some nice looking rope halters, but there are a LOT of people who do so I guess price and available colors will be the determining factor. I'm not sure what color I want, something to coordinate with the boots I choose probably. A combo of black, brown, pink, blue or teal would work. Or I could just pick a neutral type of color. Gold, grey etc. 
I got a training lead and halter set from theahimsacollective for 50$ shipped. I got a black lead and a black halter with pink camo (grey, white, light pink, hot pink and black) and black nose knots, it also has cheek knots for decoration. I can't wait to see it! In my 'fancy rope halters' post, it's the first photo for the style.
Next on the list is a set of bell boots. The ones I like are the Classic Equines in one of these two patterns. I like the multi colors. They can go with a lot of different things. I'm leaning toward the top pair though. Looks like they can be found on Ebay for about 25$. 
got these! 25$ The print was discontinued, I'm lucky to have found them!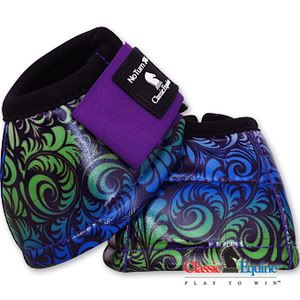 Next, I really like the Pegasus Air Boots. Brand new they're 69.95 a pair, but I'm a bargain hunter. I think I can beat that. They come in 'one size' which I like, and can be used for the front or back. Unless Emmie ends up needing the pony size they offer. One of these 3 colors I think would be best. 
I got the boots!! I found a brand new pair for sale in the HGS classifieds for 40$ shipping included. The pink ones. Maybe some other time I'll get another color for vanity's sake. I must say that I truly enjoy getting a deal!  
Since I got the airboots before the bells and they are the pink ones, I will be looking for the 'dots' bell boots to go with them. Maybe saving the swirls ones for another set with the other color of air boots.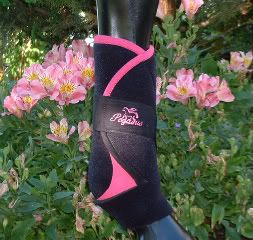 Next, I need a training stick. I have dressage whips and lunge whips, but neither of those work for ground training as well as a 'training' stick. Which, in my opinion is just a glorified cattle sorting stick. I'm thinking about making my own for 10$ rather than trying to buy an actual training stick for somewhere between 25-50$. That's just silly, people don't know though.
I just need to figure out how to attach a loop to the end of a sorting stick to make it work with the 'string' part. These people show a loop attached with a heat shrink tube, that could work if I could find the leather ends somewhere. I also assume I can paint the fiberglass stick part if I wanted to. 
I was GIVEN a training stick and string by a wonderful and generous person over on HGS. It's this one!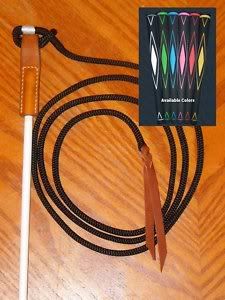 Next up is a side pull bridle. I want one with a jowl strap and a place for a bit to snap to if I decide to use one with it. I found this place online and I hope they can add the jowl strap to theirs for me. It's the best price I've found too! 42$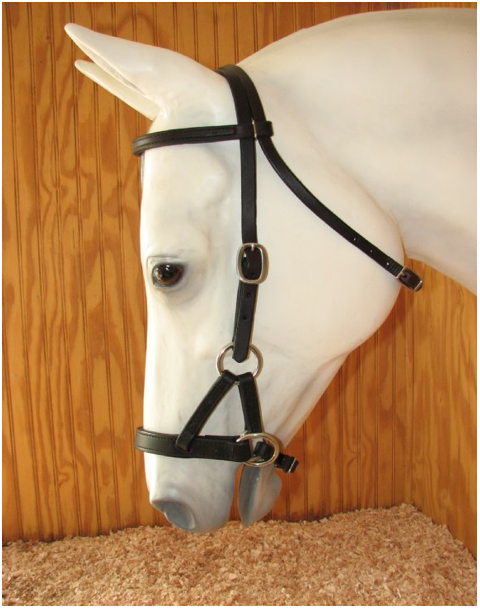 Then I need a set of reins to use with the side pull. I like rope with leather ends and would rather have buckle ends than clips. I mean, I don't like the idea of metal clips jingling against the bit or metal rings on the bridle. I want to stay quiet with Emmie so she doesn't get fearful or irritated, she's just a baby training wise. The site that has the side pull has these reins for 30$. I might be able to find something just as nice for a better price though.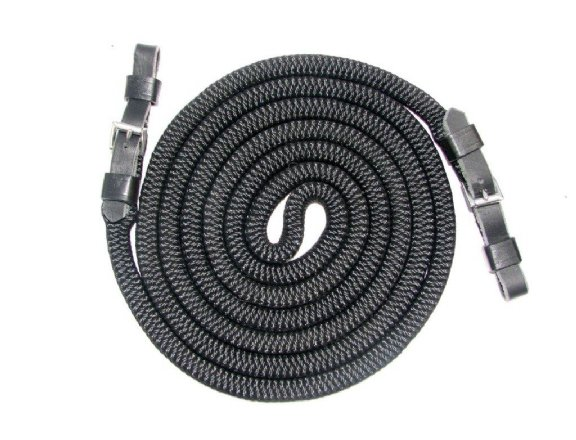 Last thing is a bit for her. I should pick something with small rings because of the space between the upper side pull rings and her mouth being a smaller space. I had originally wanted a full cheek with a link or bean. But I don't know if the upright pieces will get caught up in the bridle. I still have no idea what size her mouth is either. 
However, if I can adjust the bridle so that it fits like this one I should have plenty of space for clipping a bit on. Too bad the one in the picture is about 300$! 
I got a french link baucher for 10$ off the classifieds board at HGS. Love that!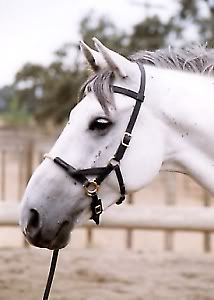 If I don't have that much space I can do a half cheek like this but with the uprights underneath: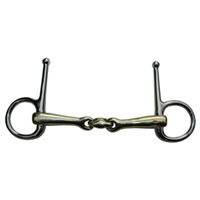 For the next part of this entry, I will list the things I would most like to get for myself. I won't say 'need' because usually I can make do, but some new things would be nice!
The most important thing on the list is a new helmet. I have a velvet Troxel one but it is at least 5+ years old and after five years, you really should replace a helmet. The materials deteriorate and also styles change. I will most likely get a schooling type for now and later invest in something for showing. I like the Lami Cell low profile, the Ovation Deluxe and the IRH Elite. The prices range from 50$ - 160$. Mostly it all depends on fit with a helmet. Here's what the IRH looks like :
The next things are winter apparel. A pair of mountain horse tall boots will be excellent for the snow and mud. I borrowed a pair from Rose before and I loved the fit. My tiny little duck feet are a pain to fit. The Ice High Rider are the object of my affection right now. 129$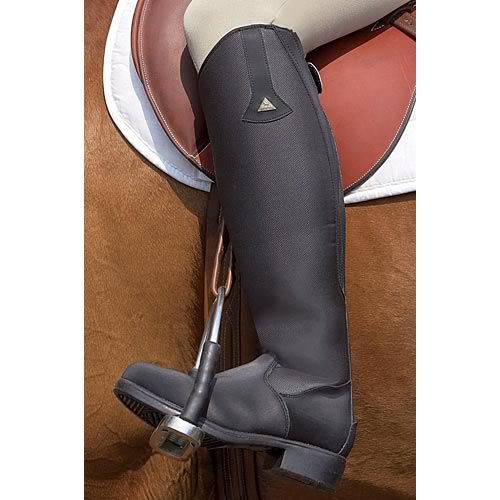 Next up are a pair of winter gloves, jacket and pants. I figure I can get away with one pair of 'fancy winter' pants that I can just wear over regular breeches. These (also Mountain Horse brand) seem like they'd be great for repelling snow and keeping me warmer. 140$ range
The most important part of winter gear, besides keeping warm, is the ability to move effectively. I mean, who hasn't had 'snow suit syndrome' and felt like a fleece and fiber fill burrito before? If I'm going to the barn, I want to be able to actually groom, manipulate tools and get into the saddle without a hoist system.
I also lust after this Comfort Plus Bareback Pad with ThinLine. The nice one with the ThinLine is 120$ and the other one without it is 69.95$. I could live with either one honestly.