This is the state of my MIL's barn
This is a typical stall barn setup. The horses come in at night to a bedded stall that functions like cat litter. The shavings absorb urine and provide a comfortable place to sleep. Hard floors can damage joints and contribute to arthritis. There is fresh water provided daily and clean well ventilated air keeps lungs healthy. The pee is scooped daily and the manure is picked out. There is very little smell.
Here is a view down the aisle in her barn. The part that fails to capture is the overwhelming stench. There is also a layer of palpable grime, old cobwebs and dust that you cannot escape. Notice the stacks of objects. The door that can no longer be used at the end...
This is her typical stall. No bedding. No water. Her horses stay inside from 12-36 hours at a time. Inhaling their own waste fumes and have nothing to drink. Their feet are slogging in manure. They cannot lie down.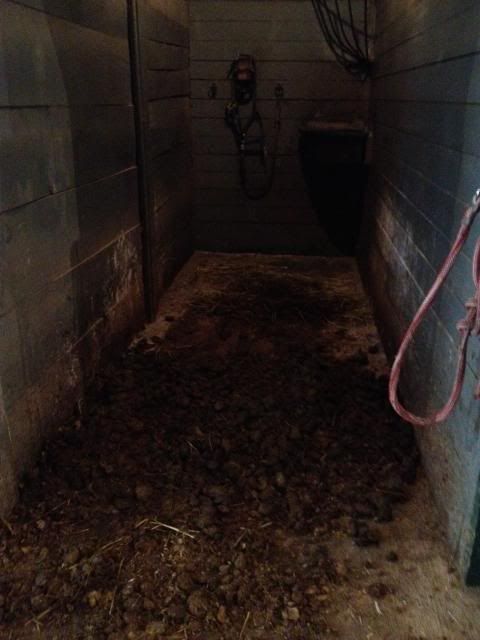 She has four typical box stalls. This is how they are kept. Also no water. Many of her horses are elderly and must lie in their own manure on the hard floor. There is NO ventilation to speak of. I cleaned and scrubbed one of the four to use for myself. It is bedded with shavings and has everything it needs. The others are not so fortunate.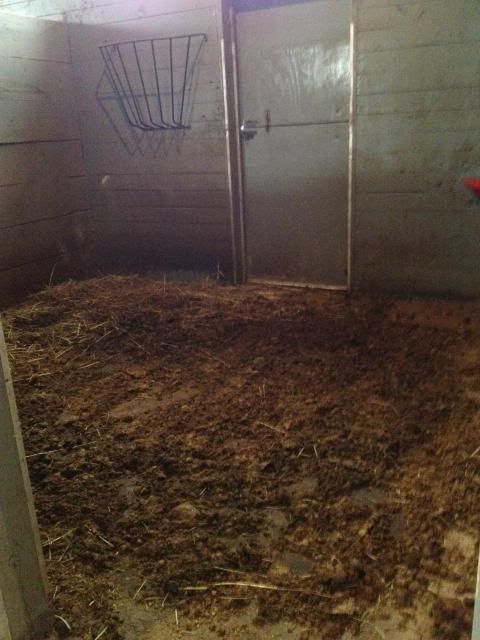 This is a typical tack room The equipment is easy to find for each horse and is easy to keep clean. It should smell like leather and be fairly fresh.
This is the tack room that I can't even use. It STINKS like rancid old sweat and animal urine. You can step inside the door and turn around. There is no free space. Leather equipment lies mishapen, moldy and rotting on the floor.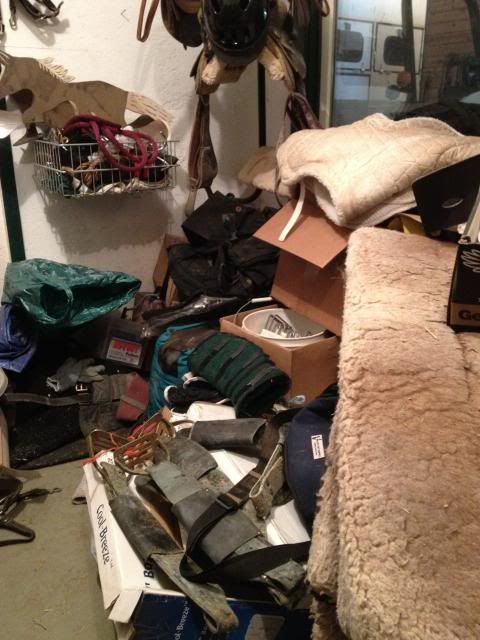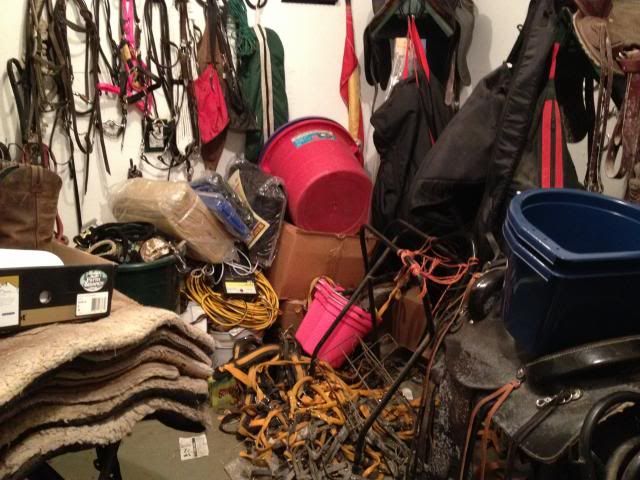 Here is her wash rack, it has hot water access and is truly amazing when it functions. You can see how often she bathes her horses that are forced to lie in their own urine and feces. They get brushed just as often.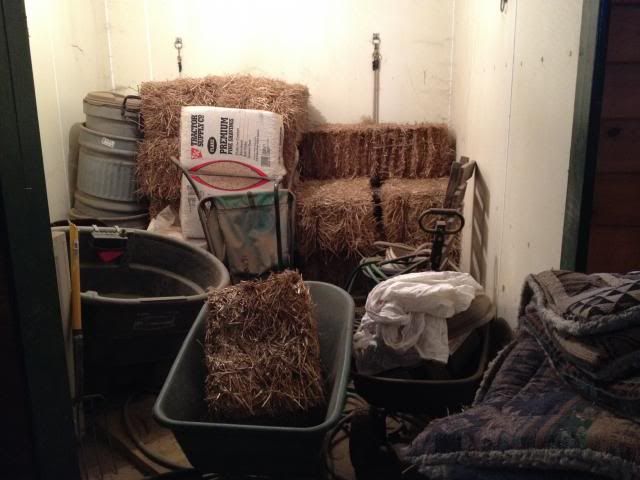 More junk in the aisles.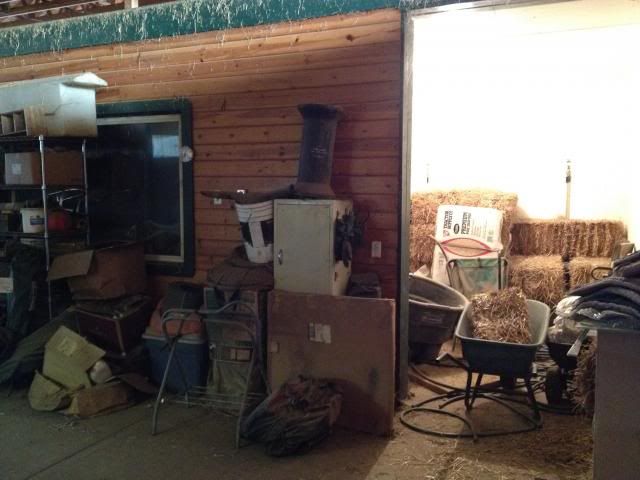 I spent a day cleaning the wash rack so I could use it. (It is now half full again. ANY open space is quickly filled)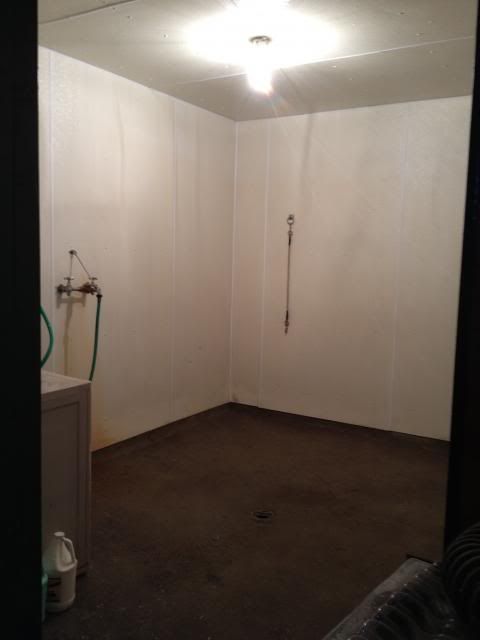 This is a typical riding arena. The footing needs to be stable to prevent slipping and to absorb impact. It should be fluffy and not hard while also being the right depth to protect the horses legs. It is regularly watered to keep the dust down and groomed with a tractor daily to keep the 'fluff'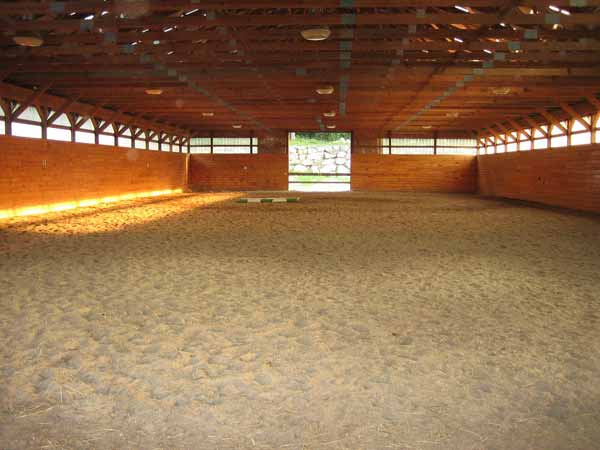 This is her indoor riding arena -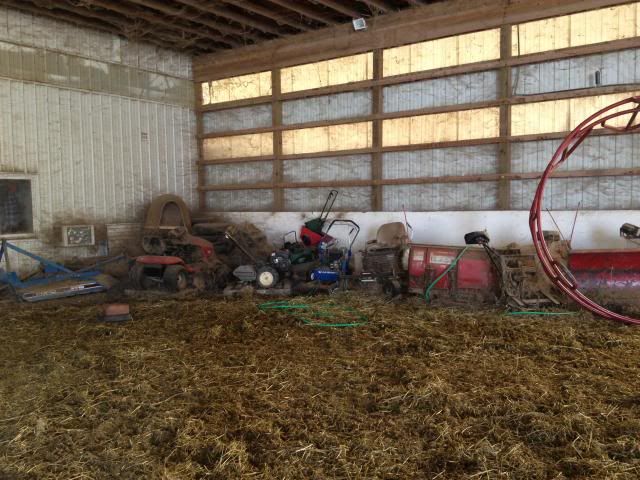 If you can believe it, these pictures are from a year ago. There is MORE junk in there now. More. 
Here is a water trough. It constantly overflows and is dumped into the arena. It rehydrates the manure and creates a bog at least a foot deep.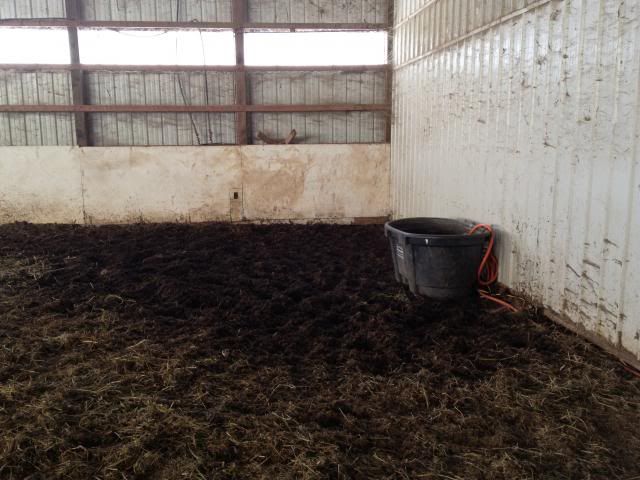 This is me standing in the 'footing' of the arena. It is comprised of (at least) five years of manure, wasted hay and urine soaked material. You can see that it comes clear up over my ankles.